Pentecost pilgrimage from Notre Dame, Paris to Notre Dame, Chartres, France
Friday 6th June to Tuesday 10th June, 2014
Join thousands of Catholic pilgrims for an unforgettable spiritual and physical journey. We will walk sixty miles over three days through the French countryside, camping out on the way, until we arrive at the beautiful Chartres Cathedral on Pentecost Monday.
A Scottish group will fly direct from Edinburgh.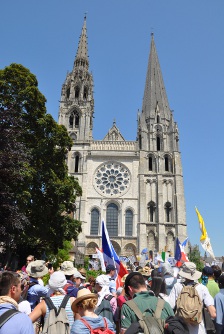 1145

Depart Edinburgh airport on flight with Flybe
1600

Arrive in Paris hotel
1700

Option of visit to Sacre Coeur and Montmartre
Saturday, 7 June (Vigil of Pentecost)
0700
Mass in Notre Dame Cathedral, Paris
0830
Leave Notre Dame towards Chartres
2000
Arrive at Ferté-Choisel for dinner and bed ("Veillée amicale" at 21:00)
Sunday, 8 June (Pentecost Sunday)
1300

Solemn Mass of Pentecost & Lunch at Sonchamps (les Courlis)
2000

Arrive at Gas Campsite
2100

Benediction, Consecration to Our Lady and All Night Exposition
Monday, 9 June (Pentecost Monday)
0700
Leave Campsite
for Chartres
1530

Solemn Mass in Chartres Cathedral
1700
Return train to Paris hotel
Tuesday, 10 June 2014 (Pentecost Tuesday)
0720
Return flight to Edinburgh
Cost of accommodation and travel
Adults
£300
Children (aged 9-18)
£285
Bagpipers
Free!
For further information contact:
BOOKINGS BY 14 APRIL 2014